ARMACT Alert of the Day Archive
---
The Armchair Activist has been working since 1996 with a mission to inspire and encourage civic action for positive, progressive change. We bring you alerts from a variety of progressive organizations covering a wide range of issues via our E-List, each and every weekday on GDPR's Persistence Radio with Natalie Davis, and right here on the GDPR website. Check here Monday through Friday (and sometimes on weekends!) for your updated progressive marching orders. Get busy – activism is the rent we pay for living on Earth.
Scroll down for the alerts and links provided each day we broadcast a new episode.
WEDNESDAY, SEPT. 20, 2017
Transportation is the largest source of greenhouse gas emissions in the US. In fact, cars and trucks alone account for approximately one-fifth of all US carbon emissions, contributing around 24 pounds of carbon dioxide and other  greenhouse gases for every gallon of gasoline used.
Here's some good news: the current fuel efficiency standards enacted by the Obama Administration are expected to prevent about 6 billion metric tons of greenhouse gas emissions and save more than 2 million barrels of oil a day and $1.7 trillion in fuel costs by 2025. But unless you speak up, the Trump Administration may weaken those standards.
There's only one group that benefits from lower fuel efficiency standards: the fossil fuel industry.  Trump made his
fossil fuel ties clear when he stacked his cabinet with Big Oil insiders and climate deniers. But strong fuel efficiency  standards will save US families money, reduce harmful air pollution, and prove that We The People are serious  about taking climate action.
It's up to you to stand up for the interests of our families and our planet – because if 45 won't lead on climate, then
we must. Send a message to EPA Administrator Scott Pruitt urging him to maintain strong fuel efficiency standards and to stand with citizens and families, not fossil fuel insiders.
TUESDAY, SEPT. 19, 2017
Just when you thought it was safe — Trumpcare is back AGAIN.
At exactly 11:59 pm on September 30, the fiscal year ends, and so does the Senate's ability to use reconciliation to
repeal the Affordable Care Act with only 50 votes.
With no time to lose, Republicans are doing everything they can to resurrect Trumpcare and take health care away from millions next week. And reports are swirling that they might have already earned Sen. John McCain's "reluctant" support this time.
The GOP's latest reincarnation of Trumpcare — known as Graham-Cassidy — would:
Destroy Medicaid as we know it
Siphon funds from states who expanded Medicaid
Redistribute that money to mostly red states that did not expand Medicaid
Allow insurance companies to charge people more with pre-existing conditions
Water-down protections against lifetime limits
Make coverage of essential services optional — including coverage of maternity care, mental health, prescription drugs, and preventive care.
Strip essential health care coverage from millions of people.
Literally millions of citizens made their voices heard and defeated Trumpcare not once, but twice. And now Republicans know that the only way they can pass a repeal bill is to sneak it past us. We can't let them.
Senate Republicans are trying to ram this bill through without a score from the Congressional Budget Office to show how many millions of people will lose their insurance this time.
They're using parliamentary tricks to avoid any debate on a bill that would take away health care from millions and
affect the lives of everyone.
Senate Republicans are meeting today to discuss their latest plan to strip millions from health insurance. Make sure
your senators hear from you:
Call (202) 224-3121 and ask to be connected with each of your two senators. Tell them to vote NO on the Graham-Cassidy Trumpcare bill.
After your call, let WFP know how it went using Working Families' link.
MONDAY, SEPT. 18, 2017
From INDIVISIBLE
WEDNESDAY, SEPT. 13, 2017
From MOVEON

While Trump is being denounced for his vile efforts to whitewash bigotry, his number two, Mike Pence, is trying to skitter under the radar.
"President Trump's leadership inspires me every single day," Pence says.
What about the days when Trump defends and incites racist violence? Even Secretary of State Rex Tillerson remarked that "Trump speaks [only] for himself." When a journalist asked Pence, he dodged the question.
What about the days when Trump threatens nuclear war, or esclates the war on Afghanistan?
Or the day when Trump pardoned a Sheriff for illegal racist targeting?
What about the days when Trump removes environmental protections or hurricane preparedness?
Or the days when he tries to ban Muslims from entering the country?
What about the day when Trump set up a commission to suppress voting?
Or the days (every day of his presidency so far) when Trump accepts domestic and foreign payments (aka "emoluments") in violation of the U.S. Constitution?
Are those days when Pence feels inspired by Trump's leadership or not?
Demand that Pence directly say whether he agrees with Trump's comments on Charlottesville and other key issues.
The silences and utterances from Mike Pence are dangerous and despicable.
Sign the petition demanding that Pence stop evading the moral depravity of Trump's coziness with racism and bigotry.
TUESDAY, SEPT. 12, 2017
From MOVEON

Credit-reporting giant Equifax just disclosed that five weeks ago, hackers gained access to the personal information
of 143 million of its customers. The hackers obtained names, Social Security numbers, birth dates, addresses, and, in
some cases, even credit card information.
Think about it… the US has about 332 million residents. This Equifax hack affects 143 million. Do the math. This is
massive.
Equifax was entrusted with consumers' personal information, but the company has broken that trust by having a weak
data security system. Equifax's response to the cyberattack has been to offer a free, one-year credit-monitoring
service, which provides no guarantee that those who are impacted will not still be affected after the year. MoveOn is
demanding that the company offer a free, lifetime credit-monitoring service to those who are impacted by Equifax's
inadequate security.
Equifax's response to this cyberattack is appalling. The company is offering its free credit-monitoring service
for one year — and then it gets to profit from its despicable behavior by offering the service for a fee. And to find out IF you were hacked, you must turn over the last six digits of your Social Security number. Really??
Equifax needs to be held accountable for its actions and shoddy security; that's why the company needs to provide an
unlimited, free credit-monitoring service to all who are impacted by the security breach.
MoveOn is gathering signatures for a petition to be sent to Equifax's CEO. Please sign it, and then pass it along to
your friends. If enough of us speak up, we can shame Equifax into finally doing the right thing.
MONDAY, SEPT.  11, 2017
From ROOTS ACTION
Sign a petition to the Charlottesville Virginia City Council urging its members to install a Peace Pole in Charlottesville, Va.
The ask: To set aside one square foot of space in a prominent public place, on the Downtown Mall or in a park, where a peace pole can be erected.
Why is this important?
A peace pole is a popular means of expressing a desire for peace around the world, including in the United States, where peace poles are found in public plazas and parks in many locations, including the Pentagon — which is of course a travesty that injures the whole project.
A registry of peace sites lists none in Virginia, save for a peace pole at a church in Charlottesville and a small pole reading "Peace" at an elementary school. What we're proposing is a public peace pole.
This is not something that is expensive or complicated. A peace pole can be purchased for $200 with "May Peace Prevail on Earth" written on four sides in four chosen languages.
One idea would be to have six sides including English, Spanish, and the languages of Charlottesville's Sister Cities: Italian, French, Bulgarian, and one of the many languages from Ghana. Or eight sides with some left blank to be filled in later.
But whatever plan is chosen, this is something that can be accomplished fairly easily. And it needs to be done.
Charlottesville's monuments to wars — including the Native American genocide, the defense of slavery, and the slaughter of 3.8 million Vietnamese people — dominate public space. Removing them would be ideal.
An easier method of quickly displaying Charlottesville's support for peace, however, would be to create a peace pole. Charlottesville's city council has spoken up repeatedly over the years for peace, for reduced military spending, for transition to peaceful industries, and for a halt to particular wars. But a visitor to Charlottesville cannot observe any of that anywhere on the landscape.
Charlottesville has four sister cities, and signs indicating them are visible in Charlottesville. But the motto of Sister Cities International, "Peace Through People," is nowhere to be found. There is no location set aside to celebrate these relationships, as there could be in combination with a peace pole.
Please add your voice to this effort endorsed by Roots Action, World Beyond War, Pax Christi Charlottesville, Amnesty International Charlottesville, and Charlottesville Center for Peace and Justice.
FRIDAY, SEPT. 8, 2017
From HANDS OFF

Hands Off is a campaign dedicated to stopping cuts to people's health care, disability benefits, nutrition assistance, and other basic living standards in the upcoming congressional budgets.
The effort is backed by a coalition of progressive groups including the Center for American Progress, Indivisible, MoveOn, Planned Parenthood, Organizing for America, Social Security Works, National Women's Law Center, The Arc, La Raza, Public Ceitizens, and many more, among them the unions AFSCME and SEIU.
Hands Off notes that Donald Trump's and the congressional Republicans' budgets have a goal of cutting access to basic living standards—everything from jobs to education, housing, Meals on Wheels, food assistance, environmental protections, and disability programs—all to pay for tax cuts for millionaires and corporations.
The idea behind Hands Off is that our lawmakers need to hear the stories of citizens. They need to hear about our lives, our struggles, and how the actions of government affect our daily lives, the lives of our children and grandchildren, the lives of our parents and their parents.
Hands Off asks that you take a brave action: Visit its website and check out the various subject areas, among them Disabilities, Education, Environmental Protection, Health Care, Housing, Nutritional Assistance, Science and Research, and Women's Health and Rights. If you see one or more topic that touches your life, via the website you can share your story and tell Congress about how these cuts in these areas would impact you and those you love.
And if your subject area is not included — perusing the site I did not see civil rights or LGBT rights, areas certainly getting short shrift by Trumpists and the GOP — there is a mechanism to add them so that you can tell those stories too.
The hope is that by putting a human face on these issues through our stories, we may convince some lawmakers to do the right thing when it comes to formulating the budget. So get busy and take action.
WEDNESDAY, SEPT. 6, 2017
From COLOR OF CHANGE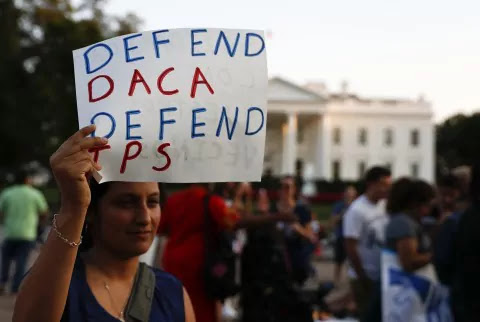 More than 800,000 families and loved ones are on the verge of being torn apart. Right now we must show up for our friends, partners, neighbors, coworkers, and relatives. Call Congress today at 1-844-382-8315 to tell them to pass the DREAM Act and #SaveTPS!
On Tuesday, Jeff Sessions  announced that the Trump administration is eliminating DACA. Trump also tweeted to Congress, 'get ready to do your job – DACA,' confirming that the job of protecting immigrant families from being torn apart is now in the hands of Congress.  DACA currently protects over 800,000 young immigrants from being deported. It allows immigrants to stay in the U.S. live with their families, work, go to school, and thrive in their communities. Without such program, families will be torn apart.
But there's more: Trump is refusing to extend the Temporary Protected Status program for hundreds of thousands of immigrants who have sought safety here in the U.S. from harm, climate disaster, violence in their home country. Many Haitian immigrants and other Black immigrants benefit from this program. It is expected to expire in January. When it expires, many of these immigrants will be immediately deported — forcing many to live in fear. There is already bipartisan support for the extension of TPS. But not for Haitian immigrants. The Trump administration has even said, "Haitians should be prepared to go home." Congress can no longer stay on the sidelines and let Trump continue his vicious attack on immigrants.
People all across the country are rallying to push Congress to act swiftly in passing the DREAM Act and to demand the White House to extend TPS. By mobilizing together with phone calls, we are getting the attention of Congress. #DefendDACA and #SaveTPS! Call Congress today at 1-844-382-8315 and let them know they need to protect all immigrants.
We're in a tense and scary moment. But pressure is building and momentum is on our side. Just last Friday, State Attorney General of Tennessee, Herbert Slatery dropped the state's lawsuit against DACA, stating in his letter to state senators, "there's a human element" to his decision.Several large companies such as Microsoft, Uber, Lyft, and Facebook and over 500 companies have signed a letter to Trump and leaders of Congress, calling on them to do the right thing and to keep DACA.
Trump does not care about immigrants.  The reality is, more needs to be done to ensure all immigrants are protected. We must end all criminalization of Black and Brown people. This means, no ban, no wall, no deportations, no detention centers, #DefendDACA #SaveTPS, protect our communities.
TUESDAY, SEPT. 5, 2017
From MOMS RISING 
1. Tell Congress: Pass emergency funding for Hurricane Harvey victims NOW!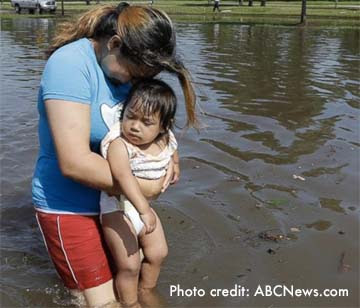 Hurricane Harvey tore through the southern Gulf States, leaving destruction, damage, and fear for millions of families. While rescue missions are still taking place to save those trapped in their homes, we know that recovery from this historical storm must begin immediately. We are asking Congress to appropriate additional emergency funding for those areas affected by Hurricane Harvey immediately, with special attention to the needs of low-income and vulnerable people and communities, so families, businesses, and communities can begin the recovery effort. Take action.
2. All Hands on Deck for DREAMers!
DACA is in danger. Stand with young adults who have been here since they were children by protecting the path to citizenship for Dreamers! Dreamers are young adults who were brought to America as children and raised in this country. As U.S. Senator Schumer stated, Dreamers are "Americans in every way but paperwork". Two ways you can take action:
3. Tell Trump: Don't sabotage health care!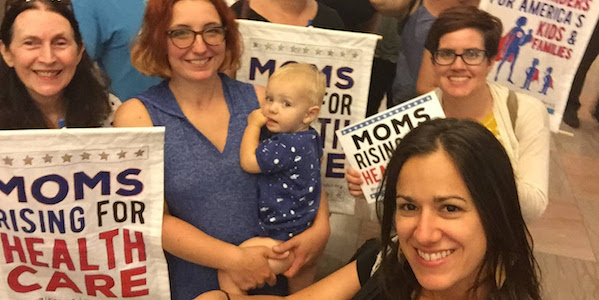 As threatened, Trump is trying his best to "let Obamacare implode." Indeed, through deliberate acts of sabotage, the Trump administration is purposefully driving up health insurance premiums to undermine the Affordable Care Act (ACA/Obamacare)! President Trump has repeatedly threatened to terminate payments to insurers for subsidies that help low-income families afford the high cost of health insurance. The Congressional Budget Office (CBO) found that terminating payments for cost-sharing reductions would increase premiums next year by 20 percent (20%!!) and by 25 percent in 2020. This careless and irresponsible policy decision would also increase the federal deficit by $194 billion and drive some insurance companies out of the individual market completely, leaving 5 percent of the population without access to any nongroup insurance plans. An estimated 1 million people would lose coverage in 2018 due to lacking any insurance carriers in their area. These are our friends, family, and neighbors. Our health care is not a political football to be leveraged for political gain, and these callous threats must stop. Take Action.
4. Read and Share our Guides on How to Combat White Supremacy and Anti-Semitism 
It's time to stand up with courage, clarity and integrity against white supremacy and hate politics. None of us can stand silent. Just look at what happened in Charlottesville, Va. The diversity of our nation is what's made our country strong, innovative and prosperous; and we can not watch silently from the sidelines as the core of our nation's strength and values are attacked. Please read and share these important resources on the role we can all play to keep the conversation and stand up for what *really* makes America great! 
5. Share Your Birth & Maternal Health Story
The U.S. has one of the worst maternal mortality rates of any developed nation. There are also scary racial disparities. In the past 5 decades, Black women have consistently experienced an almost 4-times greater risk of death from pregnancy complications than White women. This increased risk is independent of age, parity, or education. This is why we need YOUR story. Have you experienced health complications related to birth before, during or after delivery? Have you or someone you loved gone through a traumatic birth experience? Have you experienced unsatisfactory care or access to care when it came to maternity and/or birth? Share your thoughts and experiences with MomsRising and we'll include it in materials we use to educate our nation and decisionmakers about the maternal health problem in this country as we work to ensure that the health of women and their children are made a priority! Share your story. 
Use this link to share  the #5Actions list with family and friends on Facebook, Twitter or anywhere else: https://action.momsrising.org/go/30241?t=19&akid=9485%2E2200604%2Eiw61M7

From INDIVISIBLE HOUSTON
Email from Indivisible Houston founder Daniel:
As you can see from the news, Houston and surrounding areas were hit hard, and many of my fellow Houstonians and members of surrounding areas lost everything. The City of Houston is about to transform from an area with an economy so strong it weathered the Great Recession into something else entirely.

I'm writing today because of the overwhelming response of Indivisible groups across the nation asking how you can support our city right now.

After the floodwaters recede and the heroic rescues fade from the headlines, the hard part of the disaster recovery will begin. Rebuilding Houston may well take ten years or more, and we will need all the help from the Federal government we can get.

As Houston Rep Al Green told NPR yesterday, "We've got to show our people that when we have these tragedies, when they're confronted with catastrophic events, that the federal government is going to do what it's supposed to."

As Indivisible members and groups, we've called our representatives all year demanding they stand up to the Trump administration and its repulsive agenda, with pretty impressive success. Right now, it's time to call your member of Congress and demand the federal government step up up to rebuild Houston over the long haul.

Here's what your congress members need to hear from you:

Demand immediate relief for areas affected by Harvey. Members of the Texas delegation are leading efforts to appropriate emergency relief for Houston, coastal Texas, and Louisiana. This is a national crisis and every Member of Congress should support aid for areas affected by Hurricane Harvey. Make sure that members of Congress do, too.

Resist funding cuts to disaster preparedness and response. Trump has called for massive cuts to FEMA, the coast guard, and other programs that are essential to prepare for and respond to disasters like Harvey. But funding is the job of Congress, so make sure your lawmaker doesn't cut these important programs.

Rebuild Houston, not some stupid wall. We need infrastructure, medical help, jobs and economic security to rebuild Houston and the Gulf Coast, not a thousand mile long political posture for Trump's white supremacist worldview. Demand your members of Congress supply federal funding to rebuild our cities and our communities—not a costly and unnecessary wall.

Reauthorize the National Flood Insurance Program. Even as Houston sits under water, Congress is unsure about whether it should reauthorize the National Flood Insurance Program, which is intended to protect Americans from events like Harvey and expires on September 30. Congress needs to not just reauthorize the program, but strengthen it.

Address climate change in a meaningful way. Tropical Storm Harvey is real, so is climate change. We need a deliberative grassroots-driven plan that takes into account the strong likelihood of future climate disasters while taking action to avert the worst of the climate crisis. If Congress won't address climate change, then we need to make sure our local and state governments are.

We're in a terrible situation, and it's going to take a lot of time, effort and money to get us out. But we will get through it. Indivisible is the broadest, most powerful grassroots political community our nation has ever seen, and y'all can help. And when we do rebuild, come and visit us sometime!

Daniel
Please hear Daniel's plea, and get busy! Reach your lawmakers via the Congressional Switchboard:  (202) 224-3121 

THURSDAY, AUG. 31, 2017
From MOMS RISING
This alert is one of Mom's Rising's famous Five Actions we need you to do this week.
1.  Close the African-American Women's Wage Gap
July 31st was the day that the average earnings of African American women in the United States FINALLY caught up to the average earnings of what European-descended men earned in 2016. Your voice is needed now to bring this issue forward. The sad fact is that women still experience wage discrimination every day, with moms and women of color experiencing the most extreme discrimination and wage hits. Solutions are possible—and the more of us who speak up, the faster we'll get to those solutions. This wage gap is outrageous. So outrageous that you're still trying to figure out the math? Here's how the numbers work out: African-American women who work full-time, year round, are paid only 63 cents on the dollar compared to White men. Sixty. Three. Cents. African-American mothers are paid even less. On average across the country, African-American mothers earn 51 cents on the dollar compared to European, non-Hispanic fathers.  Speak out.
2. How have school discipline policies affected your children and family?
Every year, 3.3 million students in the United States are suspended from school, causing them to miss critical learning time, as well as opportunities to grow and succeed. Recent federal data show that African-American and Latino and Latina students and students with disabilities are disproportionately targeted by suspensions. They are also likely to be punished more severely than European=descended students for minor misbehavior, contributing to the achievement gap and high dropout rates for these students. Moms Rising needs you to help them speak out on the issue. The group is collecting stories from families who have been negatively impacted by suspensions and from teachers who are using alternatives to suspensions and other exclusionary discipline policies that too often push students into the school to prison pipeline. These stories help to push legislators and school districts to see the data,hear the experiences of children and families, and make changes to dismantle the school to prison pipeline. And teachers: Moms Rising needs to hear your stories too!
3. Speak Out for High-Quality, Affordable Childcare!
A lot of lip service has been paid—both good ideas and not so good ideas—recently in terms of the childcare crisis many families find themselves in. Childcare played a major role in the 2016 election with candidates from both sides of the aisle proposing solutions on how to fix our childcare dilemma. In fact, a 2016 poll found that 90% of voters (both Republicans and Democrats) agree that our elected leaders should work together to make quality early childhood education, including childcare, more accessible and affordable to low- and middle-income families. This is why we are calling on Congress to step up to the plate to pass policies that help our families afford childcare, increase access, and give our childcare professionals the boost they need! Key leaders in Congress are already starting to draft legislation on this issue, but we need to make sure it is the right type of legislation—not just a benefit for the wealthy few. Write your Members of Congress NOW! Tell them to support high-quality, affordable childcare legislation!
4. Tell the FCC and Congress: Protect Net Neutrality!
An open internet is essential to protecting freedoms we hold dear: our ability to innovate, speak our mind, connect, and hear diverse voices and opinions. The FCC wants to roll back 2015 rules that require internet service providers to treat all content the same. We can't let them. Join say NO! Net Neutrality ensures a level playing field. It stops ISPs from blocking or suppressing content. It limits them from manipulating the speed at which you receive certain content, or selling premium access to the highest bidder. Net Neutrality ensures that when we raise our voices online, they can be heard – loud and clear. Less than a week left for this fight, so get busy: Join us to take action!
5. Ask Congress to Stand With 800,000 Dreamers Across the Country! Defend the DREAM ACT!
Stand with young adults who have been here since they were children by protecting the path to citizenship for Dreamers! Dreamers are young adults who were brought to America as children and raised in this country. As Senator Chuck Schumer stated, Dreamers are "Americans in every way but paperwork". Urge legislators to stand with Dreamers and support Dream Acts currently under consideration in the House and Senate.
WEDNESDAY, AUG. 30, 2017
From SIERRA CLUB
Breitbart News was founded by the late Andrew Breitbart. Now, I don't like to speak ill of the dead unnecessarily, so that's all I'll say about him. Since Breitbart's death in 2012, the fake-news site, which routinely posts racist, sexist, anti-semitic, xenophobic, homophobic, and climate change-denying propaganda, has been run by hatemonger and suspected white supremacist Steve Bannon.
Surely you know the name: Bannon infamously took a break from Breitbart to work on the Trump campaign and then to become Trump's chief strategist. He was one of the architects of 45's unconscionable scheme to take the nation to the far right and away from true US values of compassion, justice, and equality for all.
Just over 10 days ago, Bannon was fired from his White House post, and that same day, he reassumed command over Breitbart. He came back to a hate site that is bleeding advertisers: To date, more than 2,000 companies have pulled their ads from the publication.
But one major online retailer has not done so done the decent thing: Amazon. Owner of Whole Foods and the Washington Post.
Really, Jeff Bezos???? By advertising on Breitbart's site, Amazon is funding bigotry, hatred, and climate change denial. This is not acceptable.
The Sierra Club urges you to send a message to CEO Jeff Bezos via its site: Tell Amazon to stop advertising on Breitbart — and pull its ads now.
TUESDAY, AUG. 29, 2017
From DEMAND PROGRESS
It's the final stretch of August recess. Your member of Congress will be back in Washington next week, the day after Labor Day. There are just a few more opportunities for you to attend a congressional town hall and make sure net neutrality is on the agenda.
Demand Progress is asking you to commit to attending a congressional event or drop-in near you and ask a question about net neutrality.
You need to take a look at a super cool map to help on the DP website to help you find events in your area. Check it out at events.battleforthenet.com.
No event in your area? Create your own! The Demand Progress site will help you set up a drop-in at your member of Congress' local district office.
It is so important for members of Congress and their legislative staffs to hear directly from people like you about how vital net neutrality is to free speech, civil rights, art, and innovation. We won't stand for Big Cable blocking, throttling, or slowing down our internet.
These meetings can have amazing impact. If enough of them happen, we could stop Big Cable's plan to dismantle net neutrality in its tracks. If not enough people step up, lawmakers will assume people don't care, and we could lose the free and open Internet forever.
We know the overwhelming majority of U.S. internet users from across the political spectrum support net neutrality protections, but we must use August recess to our advantage to make sure our Representatives hear from us about this. We must tell them, now: tell them: no blocking, no throttling, and no fast-lanes online! Time is running out!
Internet service providers like AT&T, Comcast, and Verizon are counting on us not being able to get to Congress before they can. Let's do this – let's prove them wrong.
We need to keep the pressure on and remind our elected officials that we're watching — and will accept nothing less than REAL net neutrality.
MONDAY, AUG. 28, 2017
From DRUG TRUTH NETWORK
Today's action alert was created by the Drug Truth Network's Dean Becker, host of Cultural Baggage, which airs Saturdays at 11:30 pm Central on GDPR, and the 4:20 Drug War News, which airs as part of Persistence Radio each weekday and during Ring of Fire Saturday mornings.
Within the last year, the Global Commission on Drug Policy, Law Enforcement Against Prohibition, the US Conference of Mayors and both the National Black and Latino Police Associations, along with the NAACP and many other  international organizations and individuals have called for an end to the current mechanism of drug war.
Currently, there is not one high echelon proponent of drug war willing to discuss this subject in any open, public venue. Therefore, let us quench our thirst for justice and open this dialogue not just on the editorial pages or the occasional
broadcast of two-studio banter, but rather we must have an open, national debate on the subject of drug war.
Dean Becker says that given the opportunity of a national debate on the drug war, his first question would be: What is the benefit, what have we derived that offsets the horrible blowback of waging this, the first eternal war?
Think of what you would ask and what you would say. Then sign Dean's petition, which urges Trump and Congress to mandate that an open and public discourse about the prohibition of drugs take place forthwith with the Directors of the Office of National Drug Control Policy and the Drug Enforcement Administration.
THURSDAY, AUG 17, 2017
The Nazi swastika. The confederate flag. Both are bone-chilling images, and both were on proud display in Charlottesville last weekend, where white supremacists marched, and in an act of domestic terrorism, killed activist Heather Heyer and injured many more.
But yesterday, Trump blamed the violence on "both sides" and called some tiki-torch wielding white supremacists "fine people." The comment earned praise from former KKK leader David Duke.
Let's be crystal clear: In rhetoric and in policy, the Trump administration has coddled and encouraged white supremacists. At least three White House staffers — Steve Bannon, Sebastian Gorka, and Stephen Miller — are reported to have ties to white nationalists and/or neo-Nazis.
We've seen this dark history before and we will not go back.
That's why House of Representatives members Jerrold Nadler, Bonnie Watson Coleman, and Pramila Jayapal are introducing a resolution to formally censure Donald Trump for refusing to condemn the KKK and neo-Nazis. The measure would also call on Trump to fire any  staffers who cater to the white supremacist crowd.
In spite of progress, racism and bigotry have never been far beneath the surface in US society. But under Trump,  dangerous right-wing extremists are emboldened in a way we haven't seen since the backlash to the civil rights movement.
US citizens have stood together before to resist this kind of violent extremism. We have stood together across racial lines, across religious lines, and even across party lines. We must do it again.
It's just not enough for GOP lawmakers to issue statements against violence in Charlottesville. They must act against the rise of domestic terrorism and white nationalism — especially when the man in the White House refuses to do so.
Sign on to the Working Families Party petition urging Congress to censure Trump for refusing to denounce domestic terrorism and for surrounding himself with white supremacists in the White House.
WEDNESDAY, AUG 16, 2017
From COURAGE CAMPAIGN
The 45th President of the United States, Donald Trump, just defended torch-bearing Neo-Nazis who marched through a university campus to protect a statue of a secessionist traitor, instigated a race riot, and assaulted a crowd of peaceful protesters with a vehicle — injuring more than a dozen people and killing an innocent woman in the process.
There is no longer simply a legal case to impeach Donald Trump. There is now a moral imperative. Every Republican in the House of Representatives and Senate must now understand this reality. Every day they do not act, they own this President's actions.
The President of the United States — the supposed leader of the free world — just publicly, shamelessly, and embarrassingly stood with the white supremacists and Neo-Nazis who rioted in Charlottesville. Every day the Republican Congress fails to impeach Donald Trump for the crimes to which he's effectively already confessed — namely obstruction of justice — is a day that the Republican Congress endorses this President's ruinous leadership.
We live in a country where nearly anyone who publicly stands with Nazis would lose their jobs. It's long past time that Donald Trump should lose his. Today, Courage Campaign calls for the impeachment of Donald Trump. We will ask every member of Congress to go on record supporting Trump's impeachment, and we will hold accountable members of any party who refuse the call — especially Republicans, who so clearly hold the power to impeach.
Impeachment is more than a legal process — it's a political one. That's why President Gerald Ford, who completed Richard Nixon's term when the latter resigned in disgrace, said, "An impeachable offense is whatever a majority of the House of Representatives considers it to be at a given moment in history."
Donald Trump has done many things — from revealing classified information to Russians to openly admitting that he fired FBI Director James Comey in order to obstruct the Russia investigation — that might merit impeachment on legal grounds. But convincing the Republican House of Representatives to vote to ratify articles of impeachment seemed entirely out of reach — until now.
Today, Donald Trump gave comfort to Neo-Nazis and white supremacists by once again blaming "both sides" for Saturday's violence. Trump practically blamed peaceful protesters for being hit by a car when he said, "There is another side. There was a group on this side, you can call them the left. You have just called them the left, that came violently attacking the other group. You can say what you want. That's the way it is."
David Duke, the former Ku Klux Klan leader, thanked Trump for the "honesty and courage" it took to blame both sides for Saturday's ugly violence.  Richard Spencer, the white supremacist who coined the term "alt-right" said that "only a dumb person" would believe that Trump was seriously denouncing the racists and anti-semites who terrorized Charlottesville.
Trump's pathetic moral equivocation that "many sides" were at fault for Saturday's violence has been condemned by people across the political spectrum, including by Republicans. Colorado Sen. Cory Gardner, who leads Senate Republicans' 2018 campaign efforts, noted Trump's failure to directly call out Saturday's "evil" as "white supremacists" and "domestic terrorism." And Speaker Paul Ryan tweeted that "there can be no moral ambiguity" on white supremacy.
Republicans like Ryan and Gardner talk big now, but they can't have it both ways. Their words will be empty so long as they continue to support Donald Trump's immoral presidency through their actions — and inaction.
Sign the petition calling for the impeachment of Donald Trump.
TUESDAY, AUG 15, 2017
From COLOR OF CHANGE
It is hard to wake up in the US today and not feel a deep sense of rage.
The bravest of our people were violently attacked in an act of terrorism this weekend that shook the nation and reminded us of our duty to fight. Hundreds of white supremacists, Neo-Nazis, and white nationalists carrying torches descended upon Charlottesville, Va., in a march intended to evoke a violent history of racial terrorism. Three people died. 19 were injured.
Most infuriating was that so many of the forces here to protect us instead stood idle for hours and let it happen–including the police, the institutions that govern Charlottesville, and some allies. So many stood by the "Unite the Right" rally's right to exist and were surprised to see it turn violent and terroristic. This did not come as a surprise to the people living in the face of oppression every day. We know that the roots of white supremacy and hate run deep into the soil of America. But what runs even deeper is the love, sweat, tears, and sacrifice of our ancestors who worked hard to eradicate hate and the systems that reinforce it. We must continue their work even on days like today when it's hard to even turn on the news.
With decisive and strategic action, we can make sure that white supremacists don't have the power to make Charlottesville happen ever again. Here are 5 places where your voice is needed to stand up for our brothers and sisters of color and all who seek justice for all in this moment:
Demand corporate funders cut off white supremacist hate groups. #NoBloodMoney 
Payment processing companies like Visa, MasterCard, American Express, and Discover tout their embrace of diversity — and that's great. But at the same time, they are making big money from processing the funds for some of the vilest white supremacist groups–giving them the funds to plan events just like "Unite The Right." These firms can celebrate diversity or do business with hate groups. But they can't do both. If companies refuse these services, we can make it more difficult for hate groups to fund rallies like this in the first place.
Call for the removal of ALL Confederate symbols from places of honor in America.
Symbols of the Confederacy are symbols of this nation's history of racist, vitriolic hate. And they embolden white supremacists to march the streets without shame. They must all come down. Now. Kudos to Baltimore, which apparently is beginning to take action in this regard.
Stop legislation in North Carolina that protects drivers who hit protesters with cars.
Republican lawmakers actually want to protect people like the man who killed one woman and injured 19 other people by ramming his car into a crowd of protesters. Bills to protect drivers in these situations were defeated in North Dakota, Tennessee, Florida and Rhode Island. But in North Carolina this bill won passage in the state House of Representatives earlier this year. We must stop it from becoming law in North Carolina or anywhere.
Tell Congress to refuse to side with white supremacists and force Trump to #FireBannon.
Now more than ever, we cannot tolerate white supremacists running our country. One of the primary sources of this evil working for Trump is White House chief strategist and former Breitbart chief Steve Bannon. There is no place for the philosophies of Bannon and likeminded Trump underlings in government – none. Democrats and Republicans in Congress alike must take a stand from hate taking a front seat in the White House.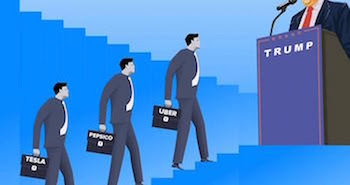 Tell businesses to #QuitTheCouncil and drop from Trump's business and manufacturing councils. 
After this weekend, businesses like Merck and Under Armour have already started dropping from Trump's special business councils. We can't stop until all of them have #QuitTheCouncil.
Now more than ever, we cannot back down.
MONDAY, AUG. 14, 2017
FROM INDIVISIBLE
The KKK doesn't need a hood anymore. Friday night, white supremacists marched through Charlottesville, Virginia with torches to evoke terrorism intended to intimidate this community.
On Saturday, white supremacists, Nazis, and armed right-wing militias gathered for another day of violent marches that led to the deaths of two police officers and an innocent woman working for justice. Others were injured, some critically.
We condemn this violence and stand with the people of Charlottesville who are resisting and working to build a world in which we all can live with human dignity.
Now is the time to take a courageous stand against white supremacy and to organize for our collective liberation.
In the immediate wake of the Charlottesville tragedies, thousands rose up across the nation to march against hate. It's not too late to take a stand. The coalition organization Indivisible, along with other progressive groups including Million Hoodies, GDPR, MoveOn dot org, Working Families Party, Womens March, Roots Action, Democracy for America, Progressive Change Campaign Committee, Resist Here, and many more, encourage YOU to make your stand by organizing a local event to stand against hate and fascism and to show your support for peace, justice, and equality.
Get started and find informational resources at the Indivisible Guide site . Fill out the form there and you're on your way.
When you're finished — or if you don't feel equipped to organize your own event, check out events in your area for activism opportunities during Congress's August recess. Find something you can do to make a difference and stop the Trumpist onslaught putting the nation and the world at risk.